Once upon a time I was a first time new mum. Yes, before everyone else came along I was in hospital with my 1st baby and they were special times. I still remember when my lovely nana came in with a big box full of knitting she had made for her first grandchild. She had been busy.
Fast forward to my 5th baby and she was still busy knitting behind the scenes and came over with this lovely pile of baby cardigans for little Emerson. All of them went on to be so well worn and loved.
And as if that wasn't enough my lovely aunty Debbie (nana's daughter) who is an amazing knitter always spoils me with some knitted goodness too. This was emerson's little blanket that we still use and love. Knit up in Bendigo Cotton 8 ply and ravelry details are here.
Whether you are giving or receiving something handmade you just know a lot of love goes into it. And it's one of the nicest things you can do for a new baby. A lovely school mum with a big brood of her own is expecting a baby around the same time as me and asked if I had any easy baby knitting patterns suitable for beginners. I sure do have a few favourites. And it's a question that I sometimes get asked so here it is in one blog post. This cardigan below is Gidday Baby (on ravelry here) and more suited to a confident/advanced beginner but is so lovely and I had to include it in this post.
If you want something for baby to wear then a very simple cardigan or hat is the way to go. I like this pattern I found on ravelry which is free and made from simple rectangles all sewn together. It's also all in garter stitch so you just knit each and every row. I would use a 10 ply from Bendigo Woollen Mills like Luxury or Rustic. The blanket can be found here (or on ravelry here). For Lion Brand patterns you just need to sign up for free and can access all the patterns on there. I think these are great and 10 ply knits up fast. Image source Lion Brand Yarn.
Another favourite but you'll need to buy the book is Easy Baby Cardigan from More Last Minute Knitted Gifts which I really like. Ravelry details are here. Knit all in one piece and easy to follow instructions. Knit on 2 needles so nothing too fancy and if you don't want to try moss stitch then just do garter stitch (knit all rows).
Thanks to a lovely reader Deanne for suggesting these baby booties knit on 2 needles in garter stitch and they look great for a beginner. I'm a real fan of Debbie Bliss baby socks on 2 needles, you can find the patterns in a few of her books here. If you're more of an advanced beginner and ready to tackle double pointed needles then this is a great free baby sock pattern.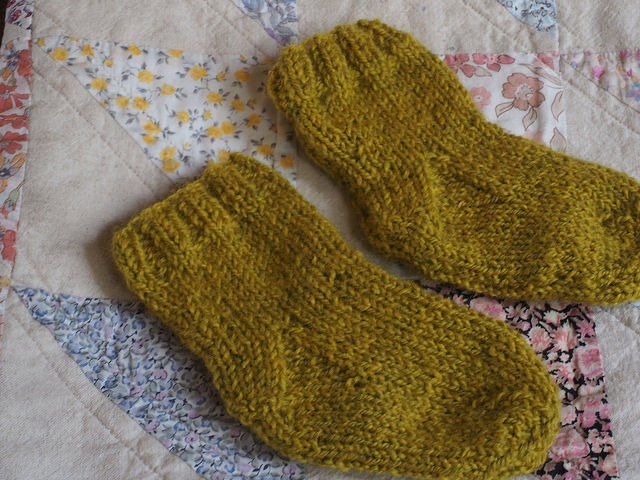 If you are knitting for a baby girl then definitely do a baby kina. Oh I will never get sick of knitting baby kinas. The pattern will set you back EUR3 but you'll use it again and again. Buy the pattern here. I love it in Bendigo 8 ply cotton (knit the cardigan on 3.75mm needles) and also Debbie Bliss Baby Cashmerino.
A lovely reader Katrina also reminder me about In Threes which is a popular free knitting pattern on ravelry and great for beginners. Find the pattern here. I used Bendigo Spring Cotton which I am a huge fan of. I didn't follow the pattern properly as am so used to a kina but you can't tell. It was lots of fun and a fast knit.
If you're into a bigger project and something to keep you warm this winter then a blanket is the way to go. Now of course you could knit squares and that is a great beginner project but what about a basketweave blanket which looks like squares joined together but you are just knitting back and forth with either knit or purl stitches. A few free patterns are here and here. This was a lovely baby blanket that I knitted and the trickiest bit is picking up stitches so if you're a beginner and that seems too daunting perhaps someone could pick up the stitches for you and you can knit from there.
Now if you're a confident beginner or want to try picking up stitches then the Debbie Bliss Ribbed Baby Jacket really is a favourite for me. You will find the pattern for free by clicking on the link in the ravelry project page here. This is great knitted in Bendigo 10 ply or any 10 ply you have and knits up fast. You knit from the back and then cast on for the sleeves, knit some more, cast off the sleeves and keep knitting the front section. Then you need to pick up stitches to knit the ribbed border. Picking up stitches isn't that tricky and I found this great youtube video here if you need some help but instead of using a double pointed needle use a circular needle. Don't freak out because you'll knit back and forth. Thank goodness for youtube.
Another great free pattern from Debbie Bliss for babies is the baby shrug, I've made more than a few of these. Again you need to pick up the stitches but it's knit in one piece like the cardigan above. It's very pretty and great for babies and toddlers. Click on this link for ravelry and the scroll down to find the pdf for the pattern.
Thanks to another great reader Becci who reminded me about baby washcloths. So many free patterns on the internet and ravelry. Basically a knitted or crocheted square of cotton that are so soft and gentle for bathtimes. These were a pile I crocheted in debbie bliss cotton dk. I also love to use Lily Sugar n Cream for my dishcloths. Both are thicker and a bit more substantial than Bendigo 8 ply cotton. A few simple patterns are grandmother's favourite and ballband dishcloth.
And if you want to buy a book (and I'm a broken record here) then get your hands on Baby Knits for Beginners by Debbie Bliss which is one of my most used baby books and has a couple of favourite patterns in it. A great beginner pattern in there is the boat neck sweater.
How did I go? What is your favourite baby knitting pattern for a beginner? Or perhaps you have a question? Fire away…………………………..