There is a bit of background to this giveaway. I was  chatting last year to one of my sweet blogging friends and we were discussing how cool it would be to give away a Kitchen Aid on our own blogs.  It seemed like something that was so far off and such an expensive thing to do. But earlier in the year I said to retro daddy 'I'm going to do it'. I've had such a huge year  – not just on this blog but life in general. It's been huge and it's fun to do something huge just before Christmas!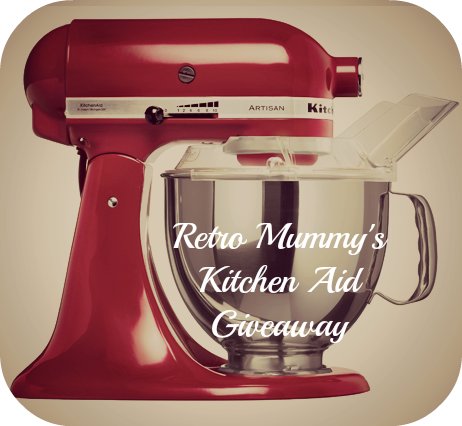 And I wanted to say thank you! To everyone who pops by here, who leave a comment, who read everyday, who pop over to my facebook page, who email me, who tell their friends, who are old time readers or might be my newest fans. Thank you.  I wouldn't have this blog and the success that I've had if it wasn't for you. So why not giveaway something that I love so much. My Kitchen Aid.
There are so many things to love about a Kitchen Aid. Mine is so special because I came in the door with newborn twins to discover it all wrapped up on the kitchen counter with a big bow on it. We were living in this teeny tiny little rented townhouse with a tiny little kitchen but I gave that Kitchen Aid pride of place. Retro daddy teased me for taking such good care of it but I loved it. And I still do. Our kitchen at the old house wasn't even finished yet but that Kitchen Aid was the first thing I put in the new kitchen. Didn't matter that there was no electricity in the room yet!
And there is a shiny red Kitchen Aid sitting in my house all ready to go to your house. I bought it myself and it comes with an extra beater blande (fancy! I dont have one but it scrapes the bowl as it beats!) and a Kitchen Aid cookbook too. And if the number of entries just goes crazy then I'm giving away a second Kitchen Aid.  Yes. A second one will be up for grabs if the entries go crazy so that you still have a good chance of winning. You can thank retro daddy for that  because he thought I was giving away two. How generous of him.
The fine print! You must be an Australian resident, 18 or over, you may only enter once, you must enter using the form below and you must have a valid email address entered. You can read the full terms for this giveaway here. This is a random draw which will be conducted on Monday 17th December after 5pm. NSW Permit Number LTPS/12/10896. Oh and your entry won't come up as a comment, you'll get a message thanking you! If you want to leave a comment just do that below but fill in the form to enter. I'm trying something new and easier for picking a winner.