School is back next week and for us we have activities every single afternoon……I'm not ready for that. So this week the meals are fairly easy, I let the kids pick a night since they were shopping with me and we'll make 2 extra meals for our freezer for when it really gets busy.
My Aldi shop this week was $179 (excludes fruit and veg which arrives friday) and was a big shop so next week I expect it to be less. It also includes a few back to school lunchbox treats to make my first week a bit easier – we've got kids at 4 different places this year and 2 at home and activities every night so I'm already thinking ahead. Little things like knowing I have tiny teddies and le snaks in the pantry that can easily go in a lunchbox or for an after school activity or in the car make things easy. We had a lot of meat this week – 2kgs mince (1kg will go in the freezer), 2 trays lamb chops, 2 free range chickens, 3 trays of sausages. I also picked up a packet of chicken and vegetable pies and some spinach and ricotta parcels just in case we have a crazy night and dinner doesn't go as planned. Other items include 2 dozen eggs, 2 loaves of bread, 2 packets of wraps, some iceblocks, dairy items and the hummus and crackers make a great lunchbox snack for all ages.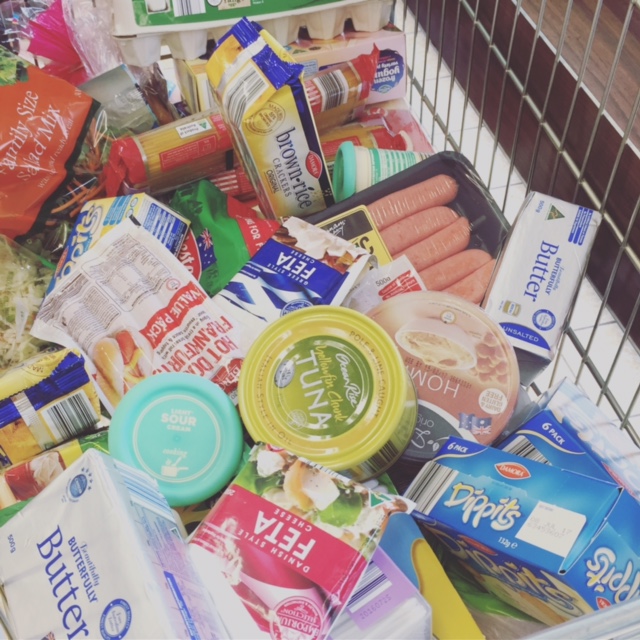 Day 1
Kids night – hot dogs and strawberry cheesecake
Clean eaters and dieters might want to choose something else but the kids picked hot dogs for their dinner. The adults added sauerkraut and mustard for a more german hot dog experience and it was delicious. Since the kids were on a roll choosing dinner they picked a strawberry cheesecake for dessert.
Day 2
Australia Day BBQ (GF) 
Yes we are getting the bbq out again and having chops for the adults and sausages for the kids, coleslaw and a green salad too.
Day 3
Smoked Tofu Stir fry with rice (V, GF if you use Tamari) 
The fruit and veg delivery arrives today so smoked tofu is nice and firm and much nicer than most tofu brands. We have a range of vegetables in there and serve it with steamed rice. For flavouring we use tamari (it's wheat free and delicious) and nuts are wonderful in a stir fry. I always feel so healthy when I've had a big stir fry for dinner and for the picky eaters they have rice and pick which of the vegetables they'll have with some tofu. And 'saucy sauce' which our 4 year old still calls soy sauce! Writing it here so I don't forget how cute that still is. Everyone corrects him but he still calls it saucy sauce.
Day 4
Have you had spaghetti pie before? I found the recipe when I was in my first trimester and craving carbs. This was a great dish. I'll make this during the day and pop it in the fridge so that it can just go in the oven when we get home from our activity that day. Super popular with the kids (and husband).
Day 5
Italian Style Lamb chops and vegetables (GF) 
Red onion, zucchini, fresh tomato and some garlic and herbs in the bottom of a roasting/lasagne dish. Place the lamb chops on top and drizzle with olive oil and season with salt and pepper. Place in the oven for about 20 minutes until everything is cooked. A really nice one dish dinner and always popular. I picked up trays of lamb chops in my grocery shop so this is a nice way to use the 2nd tray and everyone will eat it up.
Day 6
2 Roast chickens, gravy and vegetables (GF) 
Another great way to use up vegetables, we love potatoes, pumpkin, carrots and some corn on the cob. I roast 2 chickens at the same time and leftover chicken meat will go in lunchboxes the next day. I find the fussiest of eaters will love a chicken leg and some cold potato in their lunchbox.
Day 7
Silverbeet & feta frittata (V, GF)
One thing about a mixed fruit and vegetable box is the silverbeet. My kids aren't fans but this is so cheesy and delicious that no-one noticed the silverbeet. I washed the silverbeet leaves and finely chopped them in the thermomix with a red onion, 3 garlic cloves and a carrot. Throw in some olive oil and salt and saute for 2 minutes, 100C, speed 1. Drain off excess liquid. Add in 10 eggs and chopped feta. Combine and season with salt and pepper. Pour into a lined square/rectangle tin and top with sliced tomato then top with about 1 cup of grated cheese. You want the cheese to cover the dish so it's nice and cheesy. Bake for at least 30 minutes in a 200C oven and the frittata should be completely cooked inside. Enjoy. I still can't believe no one asked what the green was!
Baking
Broccoli and cherry tomato quiche (V) 
This is great for lunches, lunchboxes, early dinners and eating on the run. I'll make this on Sunday and keep it in the fridge for the week ahead.
These are the most delicious muffins, I'll leave off the glaze for the kids and freeze them for lunchbox treats. Also great to pack when the kids have after school activities and need a snack in between.
I'll make a double batch of this recipe and freeze one sliced up and in bags for when it gets busy.