I'm off to a baby shower at the end of the month and for some crazy reason have decided that I have enough time to crochet a baby blanket before then. I could be kidding myself but with stress levels running high with so many things on the go at our house, it's just the relaxing project that I need.
I love crochet because it's faster than knitting and works through the stash but I'm not great at it. I stick to simple blankets and love granny squares. But I'm not a fan of weaving in ends or joining 50 million squares together so large and quick blankets are my favourites.
First up and a great one for the absolute beginners is a big granny square blanket. You just keep growing a granny square until you have the size you want. You can also add a border to make it fancier. This one was made in Bendigo 8 ply cotton and is bright, colourful and best of all easy to master. Great for a tv project. I've written instructions here.
Once you've mastered the granny square it might be time to turn your attention to the granny stripe. I've only done one but think this will be the one I choose. Use Attic24's fabulous pattern instructions and go for it. Attic24 instructions are here. Here is mine. I did this all in Bendigo cotton (you can't beat big balls of yarn with projects like these and so much more affordable). I really loved it and the kids love to snuggle under it. Ravelry details here.
For something different a chevron or ripple blanket is a really great project. I've only made one but loved it and ran out of the wool a few times but managed to grab more to finish it off. I still love the colours in this one. Also still going strong but has a bit of pilling. The yarn was a Spotlight brand and ravelry details are here.
And I'm also thinking about this new pattern by Patons in their 8 ply cotton/blend. Thanks to Australian Country Spinners I have the cotton and the pattern…just need the time. It looks great as a neutral blanket and so bright and fun. I'm really itching to make it. Image source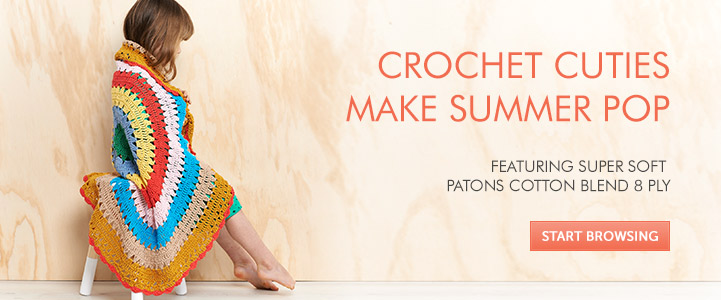 Never crocheted before? It's easy. My favourite person on youtube is Mikey of Crochet Crowd and you can see all of his tutorials here. He takes it slow, you need a ball of wool and a hook and you're off. It's easy once you get the hang of it and with youtube there are no excuses. You just need patience and the willingness to stick it out until you get it….and then you're off!
And you'll find more ideas on my pinterest board here, I do go a bit crazy pinning on pinterest but it's always good to look back on when I need some inspiration or miss craft!