I'm not going to lie to you. Taking the whole family away for the weekend isn't totally relaxing. In fact it's been almost 2 years since we've been away anywhere. But I wanted to do something really special for my lovely hubby's 40th birthday. It was a toss up between the hunter valley and southern highlands and kangaroo valley won out in the end.
I looked through houses to rent for the weekend and wanted something special but comfortable and the all important….sleeps 7. Let me tell you that things start to get tricky once you get above 2 adults, 2 kids. But we did it. I found Hampden House, the most amazing house with so much history and a wonderful owner and it all fell into place. I knew that it was going to be a special weekend but I underestimated just what a wonderful time we would have. Despite the stress of cooking and packing ahead of time and driving all the kids down on my own.
We made plenty of memories……..including one child throwing up on the windy road down there and the rest of the kids calling out that I needed to turn around and look at the vomit everywhere….'ewwww it's going into your bags'………..meanwhile I'm 'asking' someone to give that child a bag or bowl as I'm doing hairpin bends on the way down. Fun times. She had a bowl in her lap for the next trips that involved bends……and can see the funny side of it now.
I had packed coats for everyone but we had a gorgeously warm weekend. As soon as we arrived and I had unloaded the car…and surveyed and cleaned the damage in the backseat, the kids were straight out the back and found some golf clubs and balls. I was admiring the house and the beautiful deep pink magnolias. Oh I'm a magnolia lover and there were so many lovely trees to admire and photograph.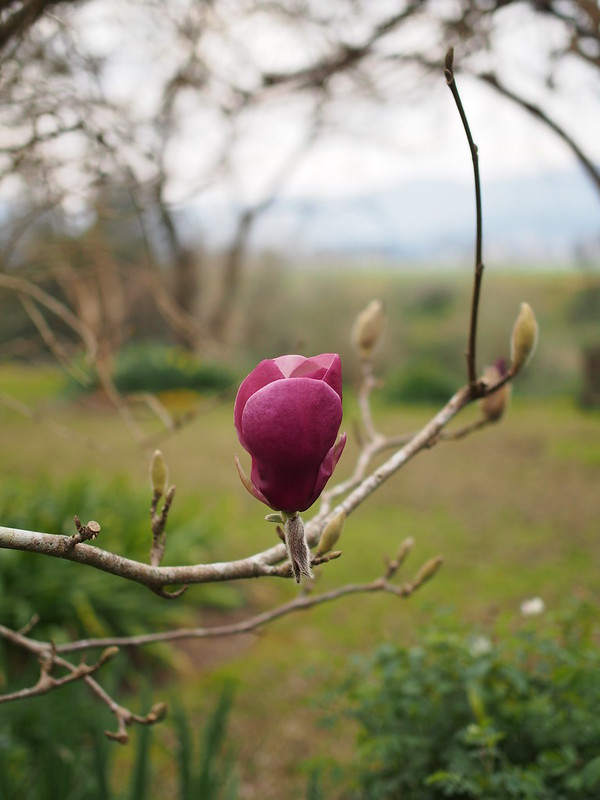 Daddy joined us and dinner was a Pioneer Woman lasagne. You assemble it with fresh lasagne sheets then freeze uncooked, I took down 2 frozen dinners with ice bricks and it was so lovely to just pop them in the oven with some garlic bread and enjoy dinner. Foil tray in the bin afterwards. The owner of the house had baked a beautiful cake and left it with party hats so we enjoyed cake, some vintage french champagne and listened to country music in the kitchen until bedtime. It was perfect.
The next morning we were up and hit Berry to have a look. Great shops and bakeries but I have to say that we loved Kangaroo Valley so much we could have stayed there the whole weekend. We did discover Sew & Tell and by we I mean me. I came home with 2 knitting pattern books and was quick as I could be and the kids got some craft kits. What a store. I could have spent hours there. A good old fashioned craft store with loads of patterns and supplies and something for everyone.
The kids got some toys and we had a look around before being accosted by some very lovely ladies from a bus trip. We smiled and they started taking photos of us and it was so funny, they were patting the kids heads, pinching cheeks, counting all the kids and posing with us, trying to lift up some of the little ones. Some of the ladies were stepping out into traffic to make sure they got us all in and we just kept laughing.  I'm sure we will surface in some holiday snaps when they get home. What can you do? Just smile and try to cross the road when they are finished. There were a few times when I felt like we were the travelling sideshow as people count heads or turn back to look at us and it's probably a sign that we are home so much now and don't get out as much as we used to.
Lunch was back in Kangaroo valley in the very sunny beer garden of the pub. Fish + chips with a lemon lime bitters and I love it when you have no plans but it turns out so nicely. It was so warm and lovely to be in the sun and know that we didn't have sport or swimming like our usual Saturdays.
And this was the view from our table. Wonderful. What a view! Get there at 12 to grab a table and enjoy. It was a real treat.
We hit the ice cream shop for some ice creams and fudge (and took lots of photos that are on my phone because it's tricky to push a pram and carry a baby on you and a camera) but when I asked the kids the best thing about the weekend the ice cream shop did pop up in conversation. They tried to get another trip in there after church on sunday too. Love it when you take kids away and ice cream or the toy shop is the best thing they did.
Back at the house, we spent the afternoon reading, playing outside, cleaning up (me, not the kids) and watching everyone. I have to say that keeping my eye on the littlest 3 is pretty much how we spent a lot of time.
here is birthday boy relaxing and soaking up the view for a little while………….
Another delicious dinner that I just needed to pop into the oven, chocolate cake and another relaxing night. Well someone had a fever and had broken out into a clammy sweat but we managed to get her off to sleep and her temperature down. And then I started having my heart race out of my chest and felt very funny. Turns out instead of drinking my good old nescafe gold I'd been drinking 2 espressos in each cup of coffee all afternoon. Phew. I wasn't dying or having heart trouble just had way too much strong coffee. It's so funny now but really had me puzzled until I got to bed and realised that my 3 cups of coffee that afternoon was a whole lot stronger than my usual.
Sunday morning and time to pack up, clean up and go to church.But not before I took a snap of some sleeping babies. We forgot the portacot and I hadn't organised one but there were plenty of warm beds for little people to snuggle in.
Apparently I got my cranky pants on but how many times can you tell the kids not to go into that room as it's all cleaned and looking as lovely as when we arrived. So in the end we got everything of ours into the car, sent the kids outside and I worked from one end of the house to the other and got it clean. We arrived to mass and what a treat to be in such a sweet little church from the late 1800's. My big kids were asked to do the offertory procession, we were given some colouring books and pencils and despite having to come in and out with my little ones who aren't so great at church at the moment, we really enjoyed the service and to top it off the big kids got to ring the bell at the end. What a thrill.
They thought it was the best thing ever and not something you get at any of the churches near us. I could go back every Sunday just for mass. There weren't many people at mass but we boosted the numbers by 8 and the parishioners were so lovely and friendly to us and a credit to the parish. It was a highlight of the weekend.
Pies for lunch (yes, we might need to walk off some of the delicious food from the weekend), toilet stop (takes a while with all of the little ones these days) then time to head back home again. We didn't want to leave but it was a great drive back with most of the kids sleeping the whole way. My kind of road trip.
It was such a wonderful weekend and definitely as special as I wanted it to be. Of course the kids have asked if they can have their birthdays down at the same house and I've said when they are 40! It really was a special treat for all of us and every room was so beautifully full of antiques and big comfy beds with lots of pillows and white linen. The house is one of the original houses in the area and has been renovated so beautifully while still keeping some of the old features.
It was such a lovely getaway even if I didn't touch my new book and only managed 3 rows of knitting and tried to stop the baby from getting into everything. And kids being kids, they will say it was the best time ever and talk about it for a long time to come…………even if they didn't act like it at the time!!!!
And thanks to the very lovely owner Karen, who is offering a 10% discount to my readers if you book a stay and mention this post. That is so kind of her and we've had some little chats on the phone today. It really makes for a special weekend if you have someone to spoil or surprise or are in need of a quiet getaway.