One thing I don't do very often is take everyone grocery shopping. My preference is to take a maximum of 2 but it's school holidays, daddy was working interstate, we were down to our last nappy, we needed more fruit and snacks to get through the week and I had to go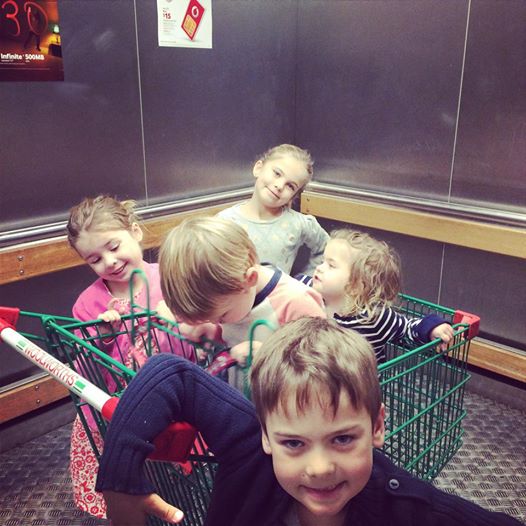 here is how we did it
– get there early…9.05 for me – early for us in the school holidays.
– park near the trolleys – not so close that one will end up on your car but close enough.
– put your littlest ones in the trolley – for me that would be my two little runners, if they are in the trolley we can work fast and they can't help themselves or run in opposite directions.
– get eldest daughter out of the car and on to her crutches – it was touch and go whether I was going to need the wheelchair and trolley but big brave girl did the crutches. Phew!
– have a little pep talk before you enter that we are not buying dvds, lollies or toys while we are in there. Just what is on the list. Of course I bought myself a bag of lolly snakes and hid them on top of the fridge.
– have your list and work quickly
– don't forget the milk and bread – I forgot the bread! Of course I forgot something
– smile sweetly when people stare at you but keep walking – very important, do not stop to chat just smile unless you know them (remember, smile and wave!). I mastered this with baby twins when everyone wants to stop for a chat.
– when the lovely check out lady says are you collecting stickers say yes please and get the kids to all look up and you might score some extra stickers
– make a quick exit and straight to the car (a mini bag of vegie chips each for good behaviour,  a quiet trip home and because we had some snacks again)
– go home, put the groceries away and pat yourself on the back. You did good!
Do you take everyone to the shops? Online groceries for you?