What do you get when you come together for a good cause? Well you get 45 quilts, 1 crocheted blanket and over 10 embroidered singlets and onesies for charity. That's what you get. In the lead up to our quilting day yesterday I was collecting parcels from the post office from a few lovely readers who had made quilt tops and quilts and popped them in the post.
On Sunday I was up early and met up with 15 ladies, 14 sewing machines, a plate of food and a lot of enthuisiasm. And we got to work. Here is the before shot when I arrived and retro daddy was unloading the car with me.
And when everyone arrived and was working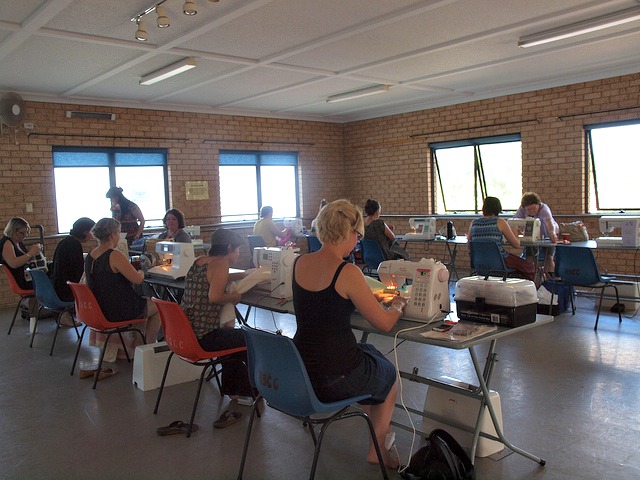 The great thing about a craft day is that you get a day out of the house (always a bonus), it's free (another bonus), you get to chat to whoever you are sitting next to and you get a day of craft.
We sorted out quilt tops and matched them up with backings, polar fleece or batting and that pretty much kept me busy the whole morning. I think it was about 2.20 by the time I set up my machine
and I had a bit of machine envy with Missy one of our gorgeous ladies – her hubby did all the research on a new machine for her and she went to the store to check them out and the lady at the shop said here is your new machine!
Turns out her hubby bought it for her and she just had to collect it. Nice one. We like him already.
And we talked about everything – sewing machines, school, ballet classes, houses, family, food, blogs, crafts, markets,
and of course we worked hard…..in between hot drinks and food of course. Bring a plate is always something special…and overcatered. I came home on a brownie/m&m/lindt ball high with a bit of caramel slice and chicken finger sandwiches too.
And it wasn't all quilting with the lovely Leonie bringing a crochet blanket to donate
and doing some sweet embroidery on singlets and onesies for us
and Lisa also joined in on the embroidery – and poor Lisa we kept running out of desks and being moved off. I'm so sorry Lisa and hope you'll join us again! I've decided I'll do a table for the non quilters to share and they won't be turfed off! Promise.
and our youngest quilter was a doll! So happy to be playing with her little leapfrog. Thanks Sunny for being so great and coming along.
And that was that! More photos to come when I lay out all the quilts and show them all to you! I had visions that I'd lay them all out on my front lawn this morning – it's more of a vision than a reality as they are cutting down the hugest tree I've seen in my neighbour's yard and I'm staying inside and watching from here!
Now if you want to donate a quilt top or a quilt or even some polar fleece or binding just drop me an email at retromummy@hotmail.com . We'll be donating quilts all year to Dandelion. And if you're inspired to run your own quilting day for a charity close to your heart well just do it! What's stopping you…………
a big thank you to Lisa, Kate, Cecilia, Faye, Sophie, Sunny, Dimity, Sachiko, Marilyn, Stephanie, Fiona, Leonie,  the 2nd Lisa, Amy, Missy and kate. I think next time we might need more tables as we ran out! And a big heartfelt thank you to those ladies who sent me things – Tracie (8 quilts, thank you!), Karen, Maddy and Anne. Thank you ladies. So kind of you.