If you've ever asked me what sewing machine I use and recommend then you'll know it's a Brother. I started with an Innovis 600, then upgraded to the QC1000 which I'm still using and loving and also have a Brother overlocker. So after all of those years of being a happy customer I couldn't say no to an invite to their head office to see their latest machines! And they didn't disappoint. I had a lovely morning and didn't want to leave except I had a babysitter at home.
There are 5 new machines in total and I have my favourite!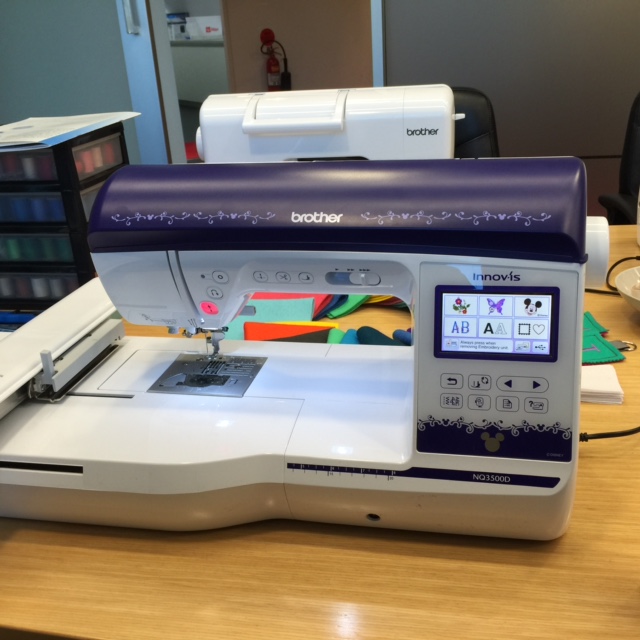 My favourite machine is of course the most expensive of the new machines, no surprise there. Its the Brother NQ3500D which you can use for sewing, quilting and embroidery and is the Disney model which comes with Disney embroidery built in. It also has a USB port so you can find other embroidery images and upload them to your machine. So wonderful to use the internet to search for what you want. I also loved the LED lighting under the arm so it lights up your work surface. My machine doesn't have this and it's got a nice big work surface  with 8.3 inches from needle to arm which is great for working larger quilts with your machine.
Now I have to confess that I think of machine embroidery and I think of towels and t-shirts and that's about it. I've been tempted to get the embroidery features before when looking for a machine but then wondered how much would I use it. But now that I've spent the morning with the new machines and seen how easy they are to use I'm already in overdrive thinking about all the great things we could make for our school craft stall and for the kids. And how I can get my hands on one. There are 4 different sized hoops that you can put on the machine and you can size up the embroidery you want to do so that you can make tiny embroidery motifs or larger ones. And best of all you get it started and then can do other things while it does its business. I like that one as I'm a serious multi-tasker.
There are a variety of embroidery threads you can use but if you use the Brother embroidery threads (I didn't even know there was such a thing) your machine tells you which number threads you need for a particular motif and you just select them. You can also find these at Spotlight (I have to confess I haven't seen them).
The NQ3500D has similar features to my own machine in that it comes with feet for free motion and you can also use the extension table for your larger projects or free motion. I also love automatic tension, needle threader, thread cutter and there is a new feature on all of the machines on display including the NQ3500D and that's the lock stitch. This was a new one for me and is this circle button on the machine which ties off your stitches at the beginning and end of your project. I'd love this for my free motion and when I'm doing font on my machine.
If you're after just an embroidery machine then the new Innovis NV800E is the latest embroidery only machine from Brother and you can read more about it here. This is a great option if you want to add a machine just for embroidery especially if you already love the machine you are using.
But if you're not after the embroidery functions then you'll love some of the new sewing and quilting machines in the Innovis range – NV1100, NV1300 and NV1800Q which you can read about here. The NV1800Q really caught my eye and is a more compact quilting machine than mine but has a lot of the same features as well as some new ones that I don't have – like the LED light over the work surface and the lock stitch. And I have to tell you that I quilted my very first single bed quilt on a Brother Innovis 600 over 4 years ago. They are a great range of machines and have the features you need for free motion like the ability to lower feed dogs, free motion feet, extension tables (don't come with all models)
Some interesting and fun facts I learnt on the day
The NS range still represents the great entry level machines that I recommend for readers and friends. The NS10 has been replaced by the NS15 (RRP $499) and offers great little features that really make sewing enjoyable like needle threader and thread cutter. Trust me on that one.
The top of the line Brother sewing machine has a DVD function so you can play DVDs while you are sewing. Apparently this is for you to watch tutorials, my mind was thinking you could have a home entertainment system in your sewing room! Sewing for a market or friends takes on a whole new life when you can be watching movies or your favourite shows on your machine!!!!
The Brother ScanNCut which is a super popular product (I'm always seeing it come up in my facebook feed) can even be used for fondant by cake decorators. There you go.
So there you have it! You can find out more about the range of Brother machines here and when you click on each particular machine you can read the product brochure too which is a great help when you are trying to do your research. Follow Brother on Facebook and Instagram and if you have a Brother be sure to tag your creations with @brotheraustralia #brotherinspires. I was so inspired after my morning that I came home and finished some craft stall sewing with my little miss on my lap.
Any questions just ask! Choosing a sewing machine can be daunting even if you're an experienced sewer……..