Well hi and welcome to my new blog! To say that I love this new space is an understatement. You hope for the best when you sign up with a designer, you hope they get your style even though they've just 'met' you online. You spend hours thinking about colours and font and layout and what you want and what you don't want. There are late nights too. And you're not the one actually designing it. But you want to get it just right.

But it is so worth it in the end. My new blog is everything I wanted and more. It's fresh and modern while still being a little bit retro and vintage. It's not too fussy while still being a little bit crafty and creative. I wanted an easy layout that wasn't too tricky for my regulars. And if you've come to this blog and are a little confused by the new design then just click 'blog' up there in the top tabs and you'll be able to read the blog the old way. Easy.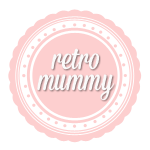 I still have a few things to tweak here and there but I just want to start blogging again now that all of my content is here! All 5 years of it! And over 33,000 comments! A huge thank you to Courtney who made all of this possible. And was so patient. I'm not the brightest blogger on the block when it comes to wordpress, self hosting or any of that stuff but no question was too stupid. And I had some questions. Thank you! And Courtney will be back designing blogs next year……after she's had her baby.
So I hope you like it………………..